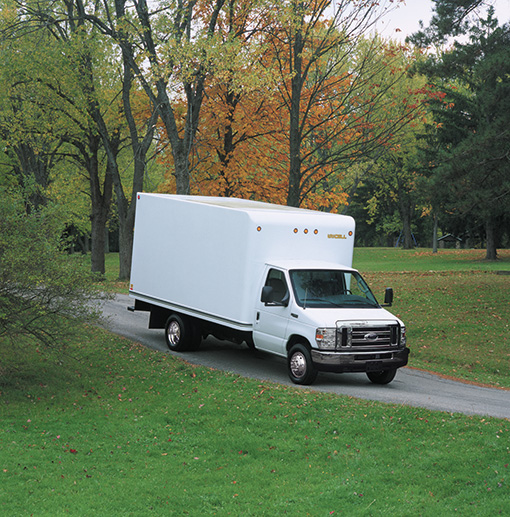 About Unicell
Unicell is a creative, resourceful manufacturer with a strong commitment to customer service. Innovative and flexible, we have successfully brought to market several ground breaking, "best in class" products. Our major products are truck bodies for Ford and General Motors trucks. Our basic models are the Aerocell, Aerocell CW, the Servicell II, the ClassiCube, and the Dry Freight. We build an almost unlimited number of custom variations to these basic products. We are also a supplier of truck equipment manufactured by other top companies.
Having already been pioneers in the development of sustainable transportation, we remain committed to continue to be leaders in this area.
We are an international company. Our headquarters are in Buffalo, New York, and Toronto, Ontario.
Contact us at cdnsales@unicell.com.
History
The Unicell group consists of two companies:
Unicell Body Company of Buffalo, Rochester, and Albany, New York and Unicell Ltd. of Toronto, Ontario.
Shared Heritage
The two companies have a shared heritage. Immediately after WWII, DEL Equipment Ltd. was founded by Jack Martin, Vic Williams, Bill Tucker, Walter Sanderson and several talented, industrious friends from the Royal Canadian Electrical and Mechanical Engineers. Through the decades, DEL grew from its small, Toronto beginnings to its current position as a national company in Canada, with branches from coast to coast. DEL is Canada's largest truck body and equipment company and has made contributions to the international truck body and equipment business in areas as diverse as liftgates, pneumatic valves and fiberglass van bodies.
1970's
In the 1970's, DEL made two important acquisitions: J.J. Taylor and Sons, Limited, a boat builder in Toronto, and Maday Body and Equipment Company, a truck body company in Buffalo, NY. Throughout the 70's, J.J. Taylor continued to build fiberglass sailboats, including the globe circling Contessa 26 and Contessa 32, and Maday continued to build aluminum van bodies. By the late 70's, however, much work was being done on a new product that drew on the expertise of both companies and would change both of their futures – the Unicell one piece fiberglass van body.
1980's
The Unicell body proved so successful that, in the early 80's, Unicell U.S. (Unicell Body Company) was formed from Maday Body and Equipment and Unicell Canada (Unicell Limited) was formed from J.J. Taylor and Sons. The two companies concentrated on manufacturing, marketing and further developing Unicell bodies for the U.S. and Canadian markets. The one-piece fiberglass body had many advantages for the truck body customer (and still does!) – it was much tougher than aluminum, was smooth and seamless and could be more easily shaped for good aerodynamics. By the late 80's, many thousands of Unicell bodies were working on the roads of the U.S. and Canada.
Also in the 80's, as part of developing a commercially successful one-piece fiberglass body, Unicell developed its own patented molding process. The automated process makes for clean, efficient use of materials and minimizes labor.
1990's
In the 1990's, Unicell continued to introduce industry-leading products to the marketplace. The standard Unicell body was continuously upgraded. Our very popular Aerocell product was introduced in 1994 for the Ford cutaway chassis and in 1996 for the GM/Chev cutaway chassis. As well, the 90's saw the development of many niche products, bodies and trailers, for particular markets.
2000's
In the 2000's, we developed new bodies for both the Ford and GM single rear wheel cutaways, first the distinctive Aerocell SRW, or "egg" or "bubble" or "guppy" as some call it, and then the Aerocell CW, a more conventionally shaped aerodynamic body.
Also in the 2000's we did pioneering work with electric trucks, first with our own, revolutionary "QuickSider", which we did in partnership with Purolator courier, Meritor, Transport Canada and Sustainable Development Technology Canada, and then on the Navistar eStar.  The QuickSider remains well ahead of its time.  When the supporting technology develops acceptably, most importantly batteries, we expect that the QuickSider will be the best urban delivery tool for the 2020s.
2013 & 2014
In 2013 and 2014, we designed a new Aerocell for the brand new Ford Transit chassis, which we think is our best design so far.  In the same period, we also developed a Classicube body for the Ram Promaster front wheel drive cutaway chassis.
Today
Today, Unicell continues to mature and strengthen. We will continue to strive to provide our customers with "best in class" products and friendly, effective service; we will continue to strive to provide our people with a fulfilling, rewarding workplace; and we will continue to strive to improve our industry, particularly our own "small corner" of it.