There is no higher priority to our entire Unicell family than the safety of our customers and employees. Like many others, we are adhering closely to the guidelines from our Government health authorities. As a result, we have made the decision to close all Unicell Body Company facilities effective Friday, March 20th, 2020 with the hopes to reopen as soon as we are able to.
OUR OUTSIDE SALES TEAM AND INTERNAL SUPPORT WILL CONTINUE TO BE AVAILABLE DURING THIS TIME.
PLEASE FIND BELOW A LIST OF IMPORTANT CONTACTS THAT CAN HELP ASSIST YOU.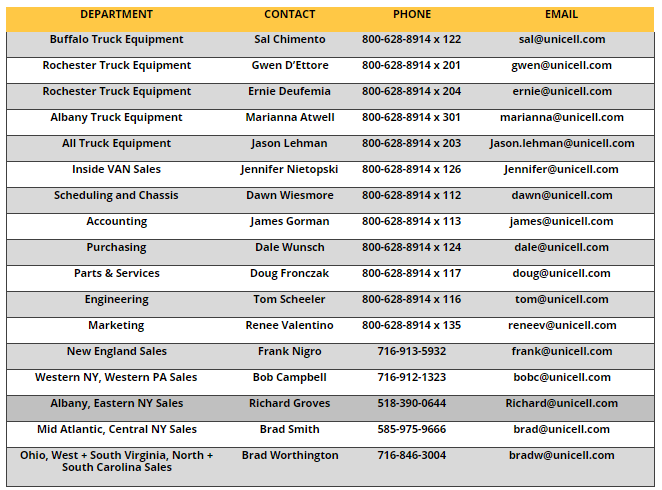 Unicell Van Division – Buffalo, NY
571 Howard Street
Buffalo, NY 14206
Phone:  (716) 853-8628 or  800-628-8914
Fax: (716) 843-8638
Unicell Truck Equipment Division – Buffalo, NY
15 Holt Street
Buffalo NY 14206
Phone: 800-628-8914
Unicell Truck Equipment Division – Rochester, NY
1319 Brighton-Henrietta Townline Road
Rochester NY 14623
Phone: 800-726-2329
Unicell Truck Equipment Division – Albany,
NY170 Cordell Road
Schenectady NY 12303
Phone: 888-820-3900
Unicell Van Division – Buffalo, NY
Unicell Truck Equipment Division – Buffalo, NY
Unicell Truck Equipment Division – Rochester, NY
Unicell Truck Equipment Division – Albany, NY